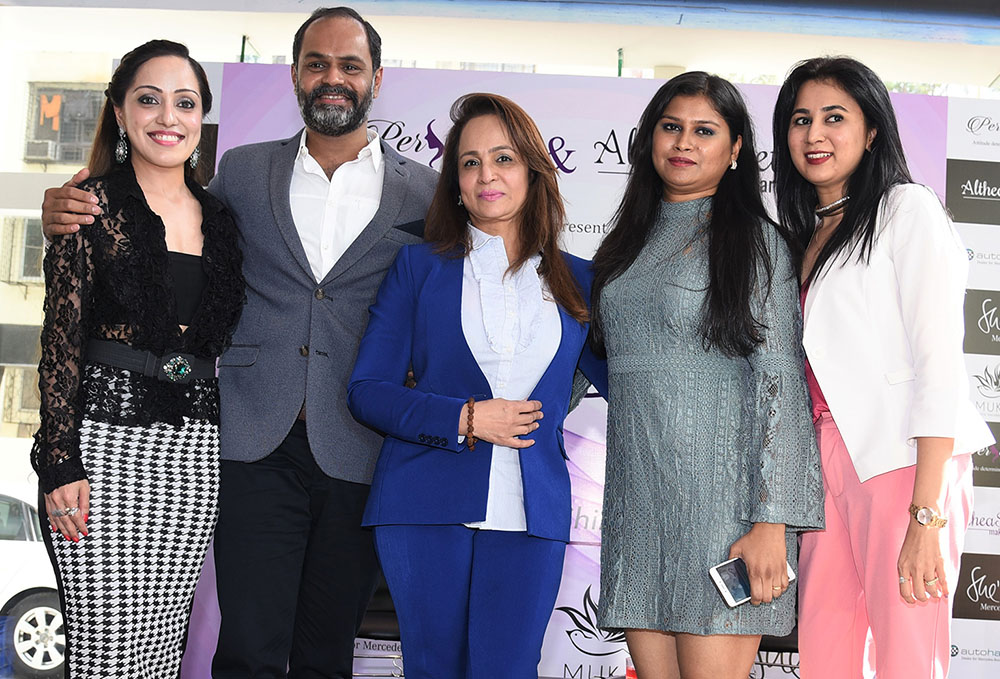 Power Woman and Social Activist Smita Thackeray was the Chief Guest at a women's day soiree, aptly titled #PlegdeToRise, organized at the Mercedes Benz showroom in Andheri West, by Personify, in association with Mukkti Foundation, of which Smita is the Founder. It was a simple yet powerful event that saw participation by women of all classes and age groups. Highlighting the three facets: Empowerment, Education and the Environment, Smita Thackeray motivated the women to take a pledge to rise in a category of their choice whilst Dr. Vishwanath Prabhu patiently took to answering all their health-related queries.
Not just this Women's Day but Smita Thackeray and her non-profit organization Mukkti have always been in the forefront when it comes to issues relating to women safety and empowerment. The path-breaking initiatives previously undertaken by them in the sphere include, a Yoga workshop for women at the Thane prison; the deployment of Me Mukkti Marshals. Not just this, post the plastic ban by the Indian Government, Mukkti Foundation set up workshops where impoverished women used sewing machines to make cloth bags, cushion covers, sling bags, coasters et al among many other things, thus seeking them employment. The organization has also, relentlessly worked, over the last two decades, achieving global recognition by the World Health Organization (WHO), for their work in the field of HIV-AIDS among other spheres like Healthcare, Education, Women Empowerment et al, thus bringing about positive a change in society. Mukkti Foundation's battle against HIV/AIDS is known to all – a recent LGBTQ+ freedom parade for HIV awareness, supported by Sunny Leone, the I-Pledge campaign with John Abraham as brand ambassador, road shows, celeb driven fundraising concerts are some of the efforts taken in this space. Having provided financial assistance & donated automation products to Helen Keller's Institute, Mukkti Foundation has also lent support to the activities of the spastic society. The foundation has also worked towards environment protection and welfare among other things.
"I try my best to maintain a consistent and stubborn drive for helping other women with the hopes that it encourages everyone around me to work on ensuring the success in our efforts towards helping the society. This International Women's Day, I take a pledge to help more women in their journey of empowerment because after fighting alone to stand my ground, I believe equality is the best answer our society has for the hope of progress.", averred Smita Thackeray.
Interestingly, a young boy, Tanmay Kanthe, backed by Mukkti Foundation, whose mother suffered from arthritis, launched his product that he has conceptualized along with his friend, Shivam Trivedi. The product called HAPPEE is a female urination funnel that allows women, who suffer from acute medical conditions or women who are pregnant, to stand and urinate. Invariably, women can also use the product in stead of opting for dirty public toilets, thus helping them from contracting UTI and skin infections.
Why this event a day after the official International Women's Day… Tarveen Kaur of Personify, sums up, "Isn't it Women's Day every day?"